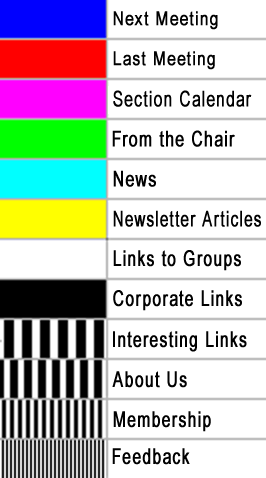 Bill Kennedy from Panasonic Broadcast passes
Lu Lessard, television trailblazer, passes
Bob Paulson, very distinguished engineer, passes
Phil Livingston, Technical Liason for Panasonic Broadcast and Television Systems, Passes
In Memory of Bob Turner, Influential Columnist and Consultant to the Post Production Industry
The (Painful) Way It Was: Editing Video the Old-Fashioned Way
A Behind-The-Scenes look at the Democratic National Convention
BF/VF Closes: Memories of Boston's Premiere Media Arts Center
SIGGRAPH/2003: Impressions of the Computer Graphics Extravaganza
A New Englander Abroad:
The BBC Television Centre
Product Management: How to Build Consistently Successful Products
Product Management, Part II: Selling a Better Mousetrap
Digital Cinematography: HDTV is alive and well
Lighting for Inner Peace
The Webcasting Medium: How the technology is advancing
In memory of Jack Newcomb, former Associate Director at pioneering video production facility at MIT
Technical Innovations at NAB: New Englanders star at the show.
QuickTime 3.0 and the Avid/Microsoft Advanced Authoring Format
QuickTime 3.0 Allows Adobe To Move Into Pro Video Editing with Premiere 5.0
Demo Reels
A Eulogy to CMX, by Bob Turner
Switcher NT: Ramblings from IBC
A Producers' Lament
Keeping the Bank Happy and Credit Flowing
An Historic Parable, A Lesson for April 1
Meeting Follow-Up: Film Preservation News
Technical Report: New Developments in Nonlinear Video, a three-part series. Part 1: Putting High-Performance Nonlinear Systems on Personal Computers.
Part 2: Networking and Video Servers.
Part 3: System Design Issues
Editing Video with Adobe Premiere
The Coming of Video and its Influence on Home Movies
From Vintage Film to Betacam: Saving the Past for the Future
A Personal View of Curt Rawley's (Avid President) Dismissal, by Bob Turner.
4:2:2 Profile in MPEG-2 Compression Heirarchy
Technician's Corner: Questions people have asked me lately
Film/Video Museums Around the World
Recent Progress in Computer Graphics
Wicked Funny April Fool Article
Virtual Reality Movies
Fall Survey Results


That's it for this season!...
Our Next Meeting Will Be In September
The announcement should come out in late August

Your Section Managers are planning a great schedule of meetings next season! We should have the line-up ready by the end of August. In the meantime, check out the pictures and comments made about the season that just ended! It's all posted on our Facebook page at https://www.facebook.com/smptene Be sure to 'like' it so you automatically get our meeting notices via Facebook!

Have a great summer!

For more info about our organization or to give us ideas for our upcoming season, please contact Marty Feldman at ISG Boston or mfeldman@ISGBoston.com. We'll be glad to hear from you!
2017-2018 Season...
Section Calendar
These are the meetings we had this season

SMPTE/New England meetings are usually held at 7:00pm (refreshments at 6:30) on the third Wednesday of every month from September through June. Locations vary to allow attendees to tour various sites of interest. You don't have to be a SMPTE member to attend and there is no admission charge. Students and the public are invited to attend. Join our e-mail meeting announcements list and we'll send you e-mail every month so you don't have to keep on checking the web site. You don't have to be a member to get these announcements.


Thank you to our local sponsors for making our meetings possible.